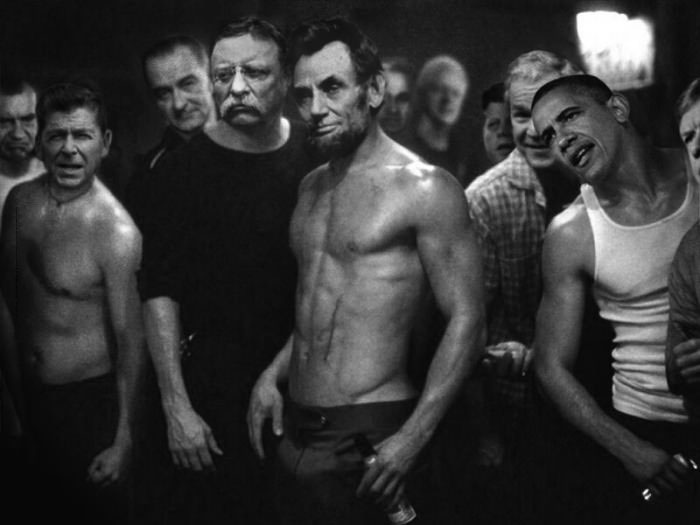 Throughout modern history, the leaders of the United States of America have kicked more ass than those of any other nation.
 Since we just celebrated their greatness this past President's Day, the first thing that we (obviously) thought of was: which of them would win in a fight? In order to facilitate this, we debated which six were the deadliest, and then decided to have them fight to the death in teams of three. 
We held a draft, where any of the Presidents were eligible to be chosen, and with the first pick in the 2016 President Deathmatch Draft Thomas Boomhower selects:
Andrew Jackson from the Carolinas
Thomas: I chose Jackson with the first pick because we in the draft room really loved his work ethic, determination and upside. Just kidding, the man was an absolute maniac. 
As I mentioned in my post about why Jackson should be removed from the twenty, he dueled at least five people in his life, and some estimates put that number in the hundreds. 
In addition to his recreational killings, Jackson was also an accomplished leader in the fledgling U.S. Army. He is often credited with saving New Orleans from the British army in the War of 1812, and he did so with a bunch of pirates and militiamen from the West. 

Now, obviously Andrew Jackson wasn't a great person, but for the purposes of a death match, he's definitely a good choice. In pretty much anything else, not so much. Despite his flaws, I decided to make Ol' Hickory the first overall pick. 
Michael: My first round draft pick was Herbert Clark Hoover. Before you all finish your eye roll, let me tell you a little bit about my guy Hoover. 
He was not a genocidal maniac, unlike the other first round pick. Although he had no military experience whatsoever, he partook in a recreational sport that is more manly than a handlebar moustache. Hooverball: Volleyball x10. Much more successful than the towns that also bore Hoover's name, Hooverball was played just like Volleyball except with a ten pound medicine ball and a three person team. Getting spiked in regular volleyball is painful enough. 

Standing at a staggering six feet tall, he would easily spike down your throat every day. It gets better, if there was more than three people playing on each team, a SECOND medicine ball would be added into play. They called this game Ultimate Hooverball. 
This man's arms: jacked, his legs: chiseled, and don't even get me started on him in a bowler hat. Hoover was a fighter. 

After he lost his reelection bid to FDR, he would go on to write many books challenging the New Deal Program. Hoover makes a great choice because he shows obvious strength and endurance. Not to mention that he works great in teams of three, thanks to Hooverball
T: After the obviously strange selection of Herbert Hoover by the Cleveland Brow- I mean Michael Barbato, I ran to the podium to make Theodore Roosevelt out of New York State my second pick. 
Theodore Roosevelt was, like Andrew Jackson, a war hero. In fact, he is the only U.S. President to ever win the Medal of Honor.
He was an accomplished leader, and an overall bad ass. He was an avid hunter and killed literally thousands of animals. He was a deputy sheriff in the Dakotas, and captured outlaws, because killing them would have been too easy. 

Perhaps most impressively, when he was President he was shot while delivering a speech, and proceeded to finish speaking, before eventually being convinced to go to the hospital. I love the man's heart, leadership, and unquestionable desire. 
He was probably worth the first overall pick, and getting him in the second round was a huge steal. 
M: You failed to mention Roosevelt's nickname, "Teddy," he's literally named after a small plush bear.* Come on isn't this the same guy that went around hugging trees? 
My second pick is the young and able John F. Kennedy. Smart and attractive, this man could not only steal your girl, he'd make you think he's only doing you a favor. 
Trap this man in a small room without women for three days, and you have the ultimate hormonal super weapon. JFK actually told British Prime Minister Harold Macmillan that he would get severe headaches if he went through three days without sex. 

Not to mention, Kennedy looked death in the face and told the communists to leave Cuba (and they actually listened for some reason). Yeah, JFK got shot directly in the head, and yes, it did almost roll off of his body, but in a dead President Deathmatch that is exactly what we are looking for.
T: With my final pick, I had to find a way to manage the mania and egos of my first two selection. Teddy and Ol' Hickory were gifted leaders, accomplished killers, trendsetting Presidents, and all around bad asses. This meant my last pick had to be someone they would respect, and someone who could not only work well with them, but fit in with the team I had developed. 

I decided to select Dwight D. Eisenhower out of Pennsylvania. The man had unquestioned leadership skills as Supreme Allied Commander in World War II. If he was able to get all those egos to work together, I'm sure handling Jackson and Roosevelt will be no problem. 
He was also fearless and determined. As I think you can tell, I valued leadership, bravery and military service with my picks. I wanted battle tested fighters, who weren't afraid to fight for their brothers in arms. 
M: Finally, I pick George Washington. A lot of you guys probably don't believe in my all star line up. This is much like the British not believing that George Washington could lead an army to bring America to freedom. 
He was the first General of the Army, and also the first president. I mainly chose Washington because I don't believe anyone would have the guts to punch the first president of the United States of America in the face. 
Scene: The East Wing: President's Club, Heaven
Teddy Roosevelt, Andrew Jackson, and Dwight D. Eisenhower are sitting at a table chatting about the glory days. 
In walks: George Washington flanked by JFK and Herbert Hoover. 
The groups have a pre-established beef over who has claim over the table. Washington is clearly upset that Roosevelt and company aren't respecting the dibs clearly established by Washington's group decades earlier. He walks over and says:
"This is my table, so these must be my wings too," as he reaches for Jackson's beloved extra-buffaloey buffalo wings. 
Jackson is quick to respond, and stabs the first President in the hand, pinning it to the table. 
Hoover, seemingly the odd man out, reacts just as fast, breaking his bottle of Redd's Apple Ale, and stabbing Jackson in the side with the remains. Jackson falls to the ground.
Washington removes the knife from his hand, and attempts to stab Eisenhower, only to be thwarted by the big stick of the softly spoken Teddy Roosevelt. 
Hoover and JFK immediately attack Roosevelt for daring to strike their alpha bro. Eisenhower, confident in his companion's abilities, elects to focus on Washington in an epic showdown between Supreme Commanders. 
Roosevelt holds his own against the two, dealing just as many offensive strikes as defensive counters.
Despite their relatively advanced age, Eisenhower and Washington are like a pair of heavy-weights in the ring. Never since Balboa vs. Drago have two more powerful fighters been matched up against one another.
 They deliver blow after blow until Washington gains the upper-hand. Eisenhower falls to the ground, but Washington doesn't let up, delivering vicious punches directly to Eisenhower's head. 
Washington stands up and slowly walks away from the scene, terrified at what he had just done. 
Looking at the blood on his clenched fists, he slowly drifts into his own world. 
From behind, Washington is quickly brought back to reality when he feels two hands grab his face. Andrew Jackson had returned to the fight. He savagely snaps Washington's neck, killing him instantly. 
Jackson runs to the aid of Roosevelt, and begins to strangle Hoover. 
Utilizing his Ultimate Hooverball™ strength, Hoover flips Jackson on the ground. 
Jackson springs up, like a rabid wolverine and him and Hoover fall to the ground in a flurry of limbs. Despite his immense strength, Hoover proves no match for Jackson's berserker rage.
 Jackson breaks a bottle over his head, before stabbing the remnants into Hoover's throat, killing him. 
At this point, Jackson is disoriented by his infinite anger, leading him to attack his teammate Teddy Roosevelt, just as he began to gain the upperhand on Kennedy. 
JFK, happy to no longer be involved in this fight, quickly finds first lady Mary Todd-Lincoln to hit on.
Despite the difficulties JFK had given him, Roosevelt proved to be quite the match for Jackson. The pair dueled, it was Ol' Hickory vs. the Big Stick in a battle nobody saw coming.
 Jackson scores a solid blow, followed by Roosevelt hitting the gut shot and uppercut combo. Jackson kneels before Roosevelt, appearing to beg for mercy. 
Roosevelt offers his hand to Jackson, who pulls his knife out and attempts to stab Teddy. Roosevelt pushes Jackson away, who then slips on Hoover's blood, falling to the ground and cracking his skull. 
Roosevelt sees JFK and Mary Todd-Lincoln about to leave the bar together. 
Being an upstanding gentlemen, Roosevelt goes to settle the differences between he and JFK, and ensure nothing this devastating ever happens again. 
As the two talk Mrs. Lincoln gets bored, and leaves without JFK. Kennedy, visibly angry, attacks Roosevelt, who leaps onto the bar, before shouting:
TR: "It's over JFK, I have the high ground!"
JFK: "You underestimate my power!"
JFK leaps into the air, meaning to land next to Roosevelt and continue their fight. Teddy is too quick however, and strikes quickly with his big stick, breaking JFK's knees and right arm. 
JFK lands on the ground in a crumpled, humiliated heap.
TR: " You were the Chosen One! It was said that you would, destroy the debt, not increase it. It was you who would bring balance to the Political Parties, not leave them in Darkness."
TR: "You were my brother JFK, I loved you!"
Theodore Roosevelt walks out of the East Wing, in victory, but with a heavy heart. 
So, that may or may not have turned into a certain space themed Disney owned property at the end, but Teddy Roosevelt wins, Michael is terrible at drafting, and happy late President's Day to all. 
Michael's Edit: In one of the ten-thousand simulations there was an ending in which JFK used his hormonal rage to finish of Roosevelt in a Tombstone Piledriver fashion. One out of ten-thousand was "not sufficient enough" to be used as reality.
*Teddy Bears are named after Theodore Roosevelt because he refused to kill an infant bear.